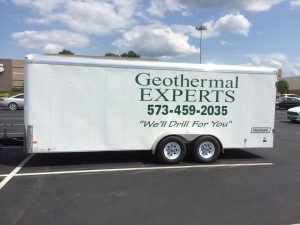 Geothermal Experts LLC specializes in drilling services for mid-Missouri and Central Illinois. We're located in New Haven, MO. The company operates our of a 3500 square foot shop with 2000 square feet of fitting and equipment storage. We now serve Franklin, St. Louis, an all surrounding counties for residential and commercial installation and service of all your geothermal loop field needs.
In 2008, we were the first in Missouri to do horizontal boring for a geothermal loop field. In 2009, we purchased our TECHNO drill vertical drilling machine. The Techno drill allows us to be more versatile and install loop fields in confined spaces. All our loop fields are grouted with a full length Bentonite grout. This is above DNR's standards, but recommended by IGSHPA.
Visit our Equipment page to learn about our state–of-the-art drilling rigs, or view our Portfolio for examples of our work in the field. Give Geothermal Experts a call today to discuss any questions you may have about ground source heat pump drilling and installation.